In Spring 2006, I took a research trip to Báile an Rodhba (Ballinrobe) in County Mayo, Ireland. My wife Marilyn was visiting Napa Valley, California, with girl friends, so I was on my own.

This was my first trip to Ireland. My son Brendan had run the Dublin Marathon the previous Halloween. My son Edward had been to Co. Clare to celebrate the 70th birthday of his father-in-law, Daniel O'Brien. My wife and siblings had all been there before me.

I have not been to many places in this world, but I came away from the Western countryside of Ireland thinking it must be the most beautiful of any. And, the people must be the most hospitable. Where else can you go and knock on the doors of perfect strangers, and be invited in for tea? Needless to say, I hope to return soon.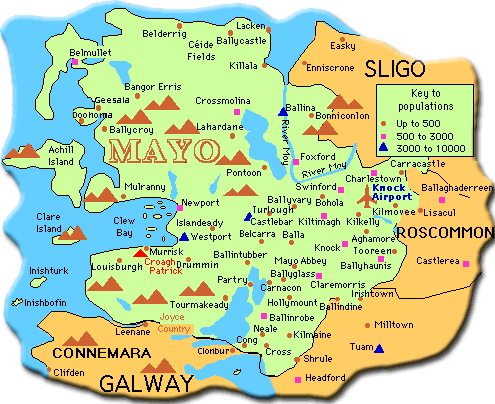 Map of Co. Mayo from Mayo on the Move. Ballinrobe is in the center of the lower third of the map.

Biggins Research. The purpose of the trip was to focus on the Irish roots of my great great grandparents, Patrick and Bridget Biggins. Patrick was born around 1807 and Bridget around 1805. They emigrated from Ireland to Ontario, Canada, in the latter 1820s and then to Illinois between 1835 and 1838.

As preparation for the research trip, I developed a new Web site called: Biggins/Beggan Irish Roots. I talked to several Biggins families while on the trip to Co. Mayo, but was not able to establish a specific relationship. I did get the feeling, however, that the most likely source of Biggins ancestors in County Mayo would be in the south near the County Galway border.

(On a second trip to Ireland in Fall 2007, I met with Gerard Beggan in Carrickmacross, County Monghan. Irish historian, Father Peadar Livingstone, told him in 1969 that the Biggins/Beggan name originated as a branch of the Maguires of County Fermanagh. The Biggins families that lived across the road from my Patrick Biggins in Illinois were from County Monaghan. And there is a record of a Patrick Biggins born in Drumgill, County Cavan, in 1807, the same year my Patrick was born. In 2008, I had my DNA tested and found that I matched up with a number of Maguires, lending credence to the Peadar Livingstone theory and connecting me with the DNA of the Three Collas.)

Biggins is a relatively rare name outside of County Mayo. I found it a refreshing experience to go somewhere and have people recognize my name and not ask how to spell it or mistake it for Higgins.

I have been doing research on my ancestors and my wife's since retiring in 2002. The results thus far are shown on PetersPioneers.

Gaelic-American Club. Several months prior to the trip, Don Cavett, a genealogist, piper, and singer, invited me to monthly meetings of the Gaelic-American Club's genealogical group. There I met many people who encouraged me to go to Ireland. Bob Kelly, who had been to Co. Mayo many times, was particularly encouraging and lent me back issues of "Ireland of the Welcomes". The Gaelic-American Club is in Fairfield, Connecticut.

Aer Lingus. After riding four trains (Metro North, "6" subway, "E" subway, and Air Train) from Darien, Connecticut, I flew Aer Lingus from John F. Kennedy International Airport in New York to Shannon Airport in Ireland on April 26. Aer Lingus jets are named after Irish saints. On the way out it was St. Maeve. On the way back it was St. Laurence O'Toole. These are both Airbus 330s with GE engines. Maeve was a warrior queen of Connaught (the western province of Ireland that includes Co. Mayo). Laurence was the first native-born Archbishop of Dublin, in the 12th century.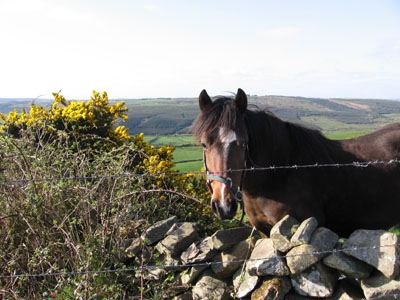 Horse next to furze blooming on a back road in Co. Clare northwest of Shannon airport, 2006.

Dangerous Driving. I rented a 1.2-litre, 5-speed stick shift Opel Corsa from Hertz at Shannon Airport, which is about three hours south of Ballinrobe. Driving in Ireland was a real challenge because they drive on the wrong side of the street, the driver sits in the passenger seat, the gears are shifted with the left hand, and many roads are quite narrow. Twice I discovered that my left side mirror had been flipped in due to brushing up against something. On my first day, I did some research on the beauty of the countryside. About on hour into this delightful work, not too long after taking a picture of a horse and furze, I got a flat tire. Fortunately, my tire-changing skills came back and after about 20 minutes I was ready to go and even found the wheel cover after backtracking a mile. I was so far into the middle of nowhere that not a single car came by during the whole changing of the tire.

Hugh and Loretto O'Malley in Westport. That afternoon, I met with Hugh and Loretto O'Malley at the home they own on Bridge Street above Jester Pub in Westport, Co. Mayo. Loretto is the cousin of a friend, Marie Whitla O'Reilly. Marie and her husband Kieran, who were born in Dublin and live in Connecticut, are friends of ours. Marie's mother and Loretto's father were Morans whose parents owned a hotel, grocery store, saw mill, and pub on Cornmarket Street in Ballinrobe. Marie, a frequent writer on Irish topics, had provided me with articles she had written and put me in touch with the O'Malleys to help me get oriented. Hugh and Loretto were certainly helpful. The conversation was most enjoyable. And the tea and dinner were excellent.

Westport is in the heart of O'Malley country. Hugh's father was the co-founder of Clan O'Malley in 1957.

My great great grandmother was Bridget O'Malley (1830-1903). Bridget married William Stanton and emigrated to Chicago in 1872, following their daughter Mary who had emigrated eight years earlier and married John Foy. There was not time enough to look for a relationship with Hugh's family.

Loretto and Hugh have a luxury two-bedroom apartment that they rent called Anchor Buildings. "It can comfortably accomodate up to four adults or a small family. With a large kitchen/dining area, enormous living room, and a full complement of modern conveniences, you can enjoy your vacation on your own terms." The Web site is as impressive as the apartment.

On subsequent trips to Ireland in September 2007 and October 2009, I again enjoyed the hospitality of Loretto and Hugh. On the last trip, they gave me a booklet about Grace O'Malley entitled "Grania Uaile." It is based on a lecture delivered by Archbishop of Tuam, Most Rev. Dr. Healy, LL.D., at the Town Hall in Westport, on January 7, 1906.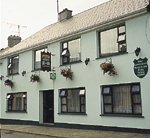 Riverside House B&B, Cornmarket Street, Ballinrobe, County Mayo, Ireland.
Riverside House. During my trip to Ballinrobe, I stayed at The Riverside House, a very nice B&B on Cornmarket Street. It is run by Anne Mahon. Anne and her family had lived in Staten Island and New Jersey for a number of years before returning to Ballinrobe.
When I arrived at Riverside House, I told Anne that I was researching Biggins genealogy. To my surprise, she told me her aunt Katie Grimes married Thomas Biggins in Glencorrib. By the time I left, she was able to give me a brief family tree for this Biggins family. I posted the tree on this page and it subsequently was seen by several relatives who were "Googling" their ancestors.
Kathleen Biggins in New York. Her grandfather, Thomas Biggins b. 1895, emigrated in 1921 to The Bronx, New York, worked as a trolley motorman. In 1929, he married Mary Ellen Murphy (b. 1908 Ballinrobe) in The Bronx. They moved to Elmsford, New York. They had a daughter who became a nun, Sister Marie Goretti. Their granddaughter Kathleen Biggins hosts A Thousand Welcomes, an Irish music program on Fordham University's FM station, WFUV.
Helen Sullivan Peters and her mother Ellen Biggins Sullivan in Monroe, New York. Ellen is a daughter of Katie Grimes Biggins. Ellen's son, Paul Sullivan, is a priest in the Diocese of Phoenix.
Mary Cooney Alexander in Basildon, Essex, England, is a granddaughter of Sarah Biggins. A tree by Mary Alexander allowed me to greatly expand the initial family tree.
Lorraine Biggins lives in Medford, Massachusetts. Her father William James Biggins is a third cousin of Mary Cooney Alexander. Lorraine is planning a trip to Ireland and hopes to meet some relatives in County Mayo.
The tree is now shown under "Biggins from The Neale and Ballynalty" on Biggins/Beggan Irish Roots.
Michael and Bridie Biggins of Ballynalty (see below) sent me Glencorrib National Schools, 1854-2004, which contains an article by Peg Biggins about her mother, Katie Grime Biggins, entitled "The Experiences of Katie Biggins in America."
Walks. Each morning before breakfast, I took five-mile walks in the countryside--taking a different road out of town each day. This was lambing season, and there were two-week old lambs running around the fields everywhere. The road to the Neale was perhaps the best walk. You had to remember to walk on the wrong side of the street because people drive on the wrong side.


PIKE: 43 1/2 lb. - Caught on Lough Mask by Sean Biggins - July 26th 1984; trophy in Biggins Bar, Bowgate Street, Ballinrobe, Co. Mayo, Ireland.

Fishing. Over the weekend, there were several trout fishermen from County Cork staying at Riverside House, participating in a fly-fishing competition at Lough Mask just west of Ballinrobe. Some of them also were at Biggins Bar. Lough Mask is about 10 miles long and 4 miles wide. It is noted for its brown trout. According to Fly Fish Ireland, the average size is 1 lb., but 3+ lb. fish are common and it holds a big stock of trout to over 20 lb. They say the big fish are taken by trolling in depths from 10 to 30 feet, usually around the islands in the middle of the lough. The Cork fishermen staying at Riverside House told me at breakfast that it is not a sin to lie about fishing.

On Saturday morning, I viewed the start of the weekend's trout fishing competition. I also spent time talking with Dominick Curran, the person in charge of the competition, who told me how it works and gave me a copy of the program from last year's World Cup competition.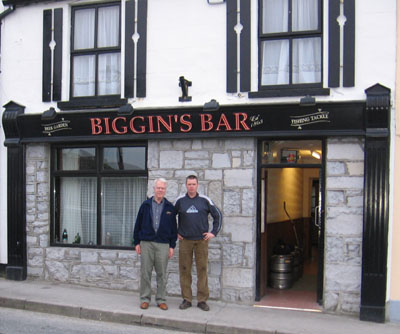 Biggins Bar on Bowgate Street, Ballinrobe, Co. Mayo, Ireland, 2006. Just after the name on the sign, it says "Est. 1863." The left side of the sign says "Beer Garden." The right side says "Fishing Tackle." From left: Peter Biggins, researcher, and John Biggins, proprietor.

Biggins Bar. Research prior to the trip indicated that there was a Biggins Bar in Ballinrobe. The existence of this establishment was a major reason for selecting Ballinrobe as a base for Biggins family research. Biggins Bar is on Bowgate Street, which is an informal section at the south end of Main Street. The first night I went to Biggins Bar and introduced myself to John Biggins, the proprietor. I also met a first cousin of John Biggins, known as John Joe Biggins, who had returned not long ago from working in Dublin at The Stephen's Green Hibernian Club, founded in 1840 by Daniel O'Connell and others. My brother Jim had coincidentally gotten John Joe's phone number from staff at the club, when he and his wife Anne stayed there a year earlier.

I did research at Biggins Bar every night for six nights, enjoying a couple pints of Guinness each night. I was able to verify what my brother Bill had always told me, that Guinness tastes best in Ireland. Bill had traveled to Co. Mayo following his discharge from the Navy during the Viet Nam conflict.

John took it upon himself to ask his aunt Anne Biggins Duffy to put together a family tree. He also put me in touch by phone with another relative Patrick Hogan. The resulting tree is now shown under "Biggins Bar, Ballinrobe" on Biggins/Beggan Irish Roots.

Biggins Bar is a favorite place to purchase flies for fly fishing. John's father Sean was an avid fly fisherman. After his father's death in a car accident in 2003, John established the Sean Biggins Memorial Cup for the best Ballinrobe angler in the annual World Cup Trout Fly Angling Championship at Lough Mask, a few miles west of Ballinrobe.

Established 1863. John Biggins says that Biggins Bar is the oldest continuously operating bar in Ballinrobe. As indicated on the sign, it was established in 1863. It originally was in the Farragher family. The first Biggins proprietor was John Biggins, grandfather of the current owner, who married Mary Farragher. According to a 1987 guide to the history and folklore of Ballinrobe, Itchy Feet & Thirsty Work, by Bridie Mulloy, Biggins Bar "is possibly the oldest license in town. The license was originally for a house in Brewery lane - off Bridge Street - but through the goodwill of Colonel Knox, for whom Sean's maternal great grandfather was gardener, a house was leased in Bowgate Street which still prospers."

Bridie Molloy died just before my return trip to Ballinrobe in October 2009.

Deirdre Biggins drapery shop on Chapel Street in Ballinrobe, Co. Mayo, Ireland, 2006. Sign in widow announces "Wedding Feathers - Now in Stock."

D. Biggins. Deirdre Biggins Cameron has a drapery shop (ladies' and children's wear) on Chapel Street in Ballinrobe. Deirdre is a sister of John Biggins of Biggins Bar. This Biggins family originally came from Rostaff, which is in Co. Mayo on the Galway border. Deirdre's grandfather, John Biggins moved to Ballinrobe and opened a drapery shop. My sister Emily and her husband Jack visited the John Biggins shop in 1971 and spoke with his wife Mary. Her husband John had died in 1962. Libraries. I was able to visit two libraries in Co. Mayo: the Ballinrobe library and the larger Castlebar library. People were most helpful in both libraries. Both libraries have good resources on:
the Tithe Appplotments (survey of Irish titheable land from 1823 to 1838 to determine the tithe each should pay for support of the Established Church) and
the Griffiths Valuation (survey of Irish landholders and householders from 1848 to 1864 directed by Sir Richard Griffith to determine the tax each should pay for support of the poor).
A five-volume history of Co. Mayo mentioned a Fr. James Biggins at Mayo Abbey.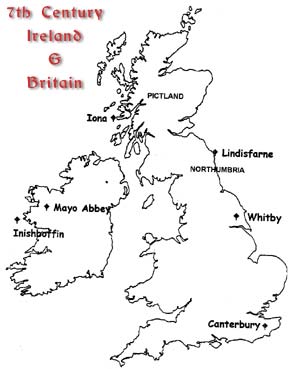 The history of Mayo begins with the Synod of Whitby in 664, to resolve the conflict between the Celts and the Romans on the date of Easter. Having lost the debate St Colman left Lindisfarne and returned to Iona, later going to Innisboffin and from there to Maigh Eo, later to become known as Mayo of the Saxons.

Fr. James Biggins at Mayo Abbey. After seeing the mention of Fr. Biggins in the Mayo history, I drove to Mayo Abbey. A Castlebar library patron kindly escorted me to the Mayo Abbey road. Mayo Abbey is a small town where the ruins of the old abbey are. St. Colman founded a monastery there in 668 A.D. The abbey was regarded as a center of learning equal to that of Kells and Augsburg in Germany. In 1152, it became the seat of the Diocese of Mayo. In the 16th century, the diocese gave its name to Co. Mayo. In 1631, the seat of the diocese was changed to Tuam.

The parish church in Mayo Abbey is St. Colman's Church. Kathleen Delaney wrote in response to a telephone call that Fr. Biggins was born in Castlebar in 1872 to Denis and Mary Biggins. He was baptized on December 24. His mother was from the Killeen family in Claremorris. He was ordained at Maynooth in June 1898. In 1896 St Patrick's College Maynooth had attained the status of a Pontifical University for its courses in Theology, Philosophy and Canon Law. At one time, Maynooth was the largest seminary in the world.

Fr. Biggins became the Parish Priest (Pastor) at Mayo Abbey in 1931, having come from Castlebar. At Mayo Abbey, Fr. Biggins renovated the church interior, put down a boarded floor, studded the walls, and painted the inside. He built the curate's residence. An unassuming man, he was well liked by the people. For some years before his death he suffered from heart trouble. He died February 8, 1950, aged 77 years, and is buried in the New Cemetery where the tombstone to his memory was erected by the parishioners.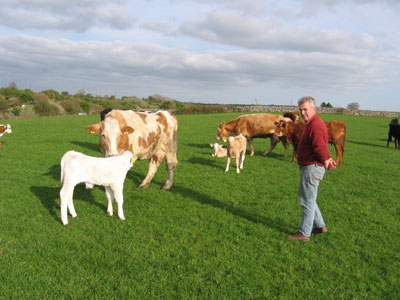 Michael Biggins with cattle on his farm in Ballynalty, Co. Mayo, Ireland, 2006.

Biggins in Ballynalty. On Saturday, April 29, I visited with Michael and Bridie Murphy Biggins on their cattle/sheep farm in the townland of Ballynalty, which is 8 miles south of Ballinrobe, near Glencorrib. Ballynalty is just north of the Black River, which separates Co. Mayo from Co. Galway on the south. The post office for Ballynalty is Headford, which is in Co. Galway.

Michael has been Mayo County chairman for the Irish Farmers' Association since 2002. Michael and Bridie have five children.

The farm has been in his family for hundreds of years. Michael took me over to his mother's house for a visit. Her name is Norah and her maiden name was Biggins. Norah has a brother John Biggins in Boston. Her husband, Thomas Biggins, died in 2003 at the age of 82. I was served tea at Norah's house and then dinner at Michael's house. Following that, Michael took me on a tour of the farm and down to Headford to see his son who was working at the cattle sale.

Michael referred me to Eamon Martin who is doing genealogical research. Eamon, who is married to Frances Biggins and lives in Dublin, has provided some interesting information on Peeter Beaghan in the 1650s. Peeter who was given 673 acres of land in Co. Mayo to partially replace land confiscated in Co. Monaghan. Cromwell confiscated land owned by Catholics east of the river Shannon to compensate soldiers who helped put down a rebellion in 1641 and to reduce the influence of Catholics east of the River Shannon. Peeter's new land consisted of seven parcels in Shrule (Muckallgee, Balynalta, Carrownaheele) and Mooragagh (Killinebringe, Carrowmore). This information is included in the Book of Survey and Distribution on Martin Ryan's Shrule Web site. Peeter also received land back in Co. Monaghan. One explanation may be that he bought land from soldiers who had received it.

Michael also referred me to his niece Kathy Keane who is doing genealogical research. She has emailed me a family tree that allowed me to create a Biggins descendants chart for Michael's great great grandfathers on both his mother's and father's sides. The resulting chart is now shown under "Michael Biggins, Chairman of Mayo IFA" on Biggins/Beggan Irish Roots.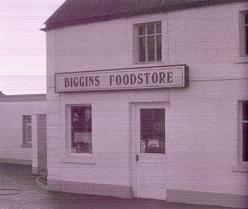 Biggins Foodstore across from Glencorrib Church, 1947-1996. Source: Glencorrib National Schools, 1854-2004.

Glencorrib National Schools, 1854-2004. In December 2006, I received a Christmas card from Michael and Bridie Biggins from Ballynalty. Included with the card was Glencorrib National Schools, 1854-2004, a book published in 2004 celebrating the 150th anniversary of the Glencorrib National Schools. They had promised to send the book when I visited them earlier in the year. The book has 169 pages and the name Biggins is peppered throughout.

Biggins Foodstore. Included in the book is an article about the Biggins Foodstore, which was situated directly across from the Glencorrib Church from 1947 to 1996. It was owned and operated by the Michael (Mick) Biggins (1909-1986) and Bridgie Diskin Biggins family. Initially, they sold cigarettes, papers, and general groceries, but over the years the store became more of a general store selling drugs, clothing, and hardware. Mick and Bridgie had seven children who eventually helped out in the store: Michael, Mary, John, Bernadette, James, Bridget, and Patrick.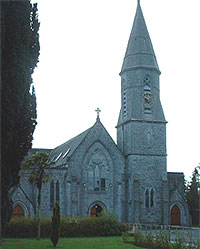 St. Mary's Church, Ballinrobe, Co. Mayo, Ireland.

St. Mary's Church. On Sunday, I went to Mass at St. Mary's Church on Main Street in Ballinrobe. After Mass, I made arrangements with Monsignor Thomas Shannon to meet at the rectory the next day. At that meeting, Monsignor Shannon provided a list of 27 Biggins baptisms. Monsignor Shannon had no record of Biggins marriages.

On a return trip to ballinrobe in 2009, I discovered that Monsignor Shannon had retired in 2008 and died shortly thereafter. He had been pastor of St. Mary's for 24 years. The new pastor is Father Conal Canon Eustace.

Based on baptisms in the 1870s and 1880s, it was possible to reconstruct five Biggins families from St. Mary's Church in Ballinrobe. The resulting chart is now shown under "St. Mary's Church in Ballinrobe" on Biggins/Beggan Irish Roots.

St. Mary's is especially known for its stained glass windows by Harry Clarke.

National Museum of Ireland--Country Life. On Sunday afternoon, I visited the Museum of Country Life east of Castlebar in Turlough Park, Co. Mayo. This branch of the National Museum was opened in 2001. It portrays the lives of ordinary people who lived in rural Ireland in the period 1850 to 1950.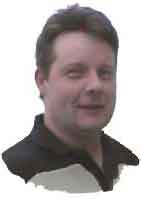 Martin Ryan, Cargin, near Headford, Co. Galway, Ireland.

A Fabulous Web Site. On Monday, May 1, a bank holiday in Ireland, I visited the home of Martin and Carmel O'Malley Ryan overlooking Lough Carrib and Cargin Castle in the townland of Cargin, near Headford, in northern Co. Galway. Martin is a Technical Officer for EIRCOM, the telecommunications company in Ireland. Carmel is a niece of Rev. Joseph Cunnane (1913-2001), who was Professor of Irish at St. Jarlath's College in Tuam from 1941 to 1958 and Archbishop of Tuam from 1969 to 1987.

Martin has developed an excellent Web site called Shrule.com which has an amazing amount of genealogical information for southern Co. Mayo. Included are baptisms and marriages provided by Fr. Michael Crosbie for Shrule and Glencorrib parishes. Martin explained the genealogy work he is doing and put together a CD with a lot of helpful information files, and displayed his extensive mapping resources for Co. Mayo.

I had encountered Martin's Shrule Web site prior to my trip and called him in advance. Martin graciously agreed to get together and also referred me to a friend Gerard Biggins who lives in Dalgan Park (northeast of Shrule). Gerard said he had only recently returned to Ireland from England, where he and his family had lived for many years. So, he referred me to his nephew Michael Biggins in Ballynalty, and that is how I came to meet with Michael.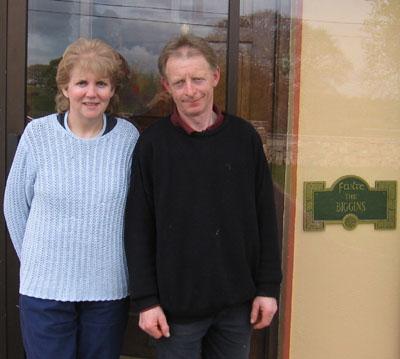 Grace and Thomas J. Biggins at the front door of their home at their dairy farm in the townland of Castlecarra, 7 miles north of Ballinrobe, Co. Mayo, Ireland, 2006. Sign on wall was a gift of Brian Biggins of Hermitage, Pennsylvania, USA, a distant cousin of Thomas J. Biggins.
Biggins in Castlecarra. On the afternoon of the bank holiday, I visited Ballintubber Abbey and Moore Hall, about 7 miles north of Ballinrobe. During the trip, I stopped by a cemetery in Castlecarra to look for Biggins stones. Someone asked me who I was looking for and I said Biggins. She said there was a Biggins family two farms down on the right. So, I went and knocked on the door, gaining a measure of confidence when I noticed that there was a Biggins sign just to the right of the door. Thomas J. Biggins and his wife Grace invited me in and served tea.
Castlecarra is two miles northwest of Moore Hall. Thomas' father Patrick and his grandfather Joseph were from the townland of Cloondaver in Robeen parish, which is about two miles southeast of Moore Hall. Before that the family lived in Roundfort, which is east of Ballinrobe and south of Hollymount. Before that, the family was from around Glencorrib in far south Co. Mayo.
Thomas has a brother Gerald Biggins in Deerpark who works for the Irish Pride Bakery in Ballinrobe, a brother John Biggins who is a farmer in Cloverhill, and two sisters.
I was the second Biggins from America to visit Thomas and Grace. The first was Brian Biggins of Hermitage, Pennsylvania, who visited them ten years earlier. Brian's great great grandparents, Patrick and Mary Maloy Biggins, were from Cloondaver. Brian's great grandfather, James Biggins, was born in Cloondaver in 1834, emigrated to Pennsylvania in 1851, and married Ellen Welch in 1869. In 1996, before Brian visited Thomas and Grace, he had sent a letter to my son Edward in New York hoping to find information about a Biggins ancestor who lived in New York. Edward passed this "strange" letter on to me, and Brian and I corresponded by mail. For the first time in my life, I did a little genealogical research. No connection was found between our families, but I received a great introduction to Biggins genealogy. See correspondence with Brian Biggins.
In October 2007, Mary Hughes Biggins, wife of Thomas Biggins' brother John, found this page while researching her husband's ancestry. In January 2009, she was able to make significant contributions to the resulting chart now shown under "Biggins Family from Cloondaver" on Biggins/Beggan Irish Roots.
Biggin in Ballinrobe in 1782. On my way to a visit to the cemetery in Ballinrobe, I spotted a stone sign embedded in the wall of a house saying "This House Built By Thomas Biggin - 1782." The sign was on a building just after you turn on the Ballyglass Road heading north out of Ballinrobe.
On my return trip to Ballinrobe in 2009, I talked to Tom Watson, who lives across the street from the sign. He said the row of buildings where the sign was were built by the Courtney Kenny family. The Kenny family had lived in the Ballinrobe area since the late 17th century and owned a brewery and flour mill there. The buildings on the Ballyglass Road were built for the miller and other skilled workers. The theory is that Thomas Biggin was a journeyman stone mason and chiseled the sign into the side of the building during construction. It was plastered over but uncovered when the plaster was redone in 2004. The former Kenny home, Robe Villa, is on High Street, around the corner from the Biggin sign.
| | |
| --- | --- |
| Stone sign on Kenny building, 2006: "This House Built By Thomas Biggin - 1782." | Kenny buildings on the road to Ballyglass, with High Street to the right, 2009. The Biggin sign is on the building just to the left of the road signs that appear in the foreground. The ruins of the Kenny flour mill on the Robe River are in back of these buildings. The Kenny home, Villa Robe, is at the far right edge of the photo. Walking down the street in the middle of the picture is Tom Watson, perhaps on his way to lunch, not long after our conversation. |
See Maggie Land Blanck's Web site for some great 2004 photos of the buildings above when they were being refurbished, as well as the Kenny home and flour mill and other places in Ballinrobe, and old photos of Ballinrobe.
Foy in Kiltarsaghaun. I had found on the website of Bridget Walsh Deese (1919-2005) that my great great grandparents, Dominick and Anne Walsh Foy had been married on February 21, 1843, in the Parish of Ballintober (also called Ballintubber) in Co. Mayo. Witnesses were Thomas Walsh and Mary Foy. The bride was said to be from the townland of Kiltarsaghaun (also called Kiltharsechaune), just south of Killavally (also called Killawalla). Killavally is 12 miles northeast of Ballinrobe, 10 miles south southwest of Castlebar, and 8 miles southeast of Westport. It is at the north end of the Partry Mountains, in the eastern foothills. Kiltarsaghaun comes from the Irish "thairseach" meaning "door steps." Prior to the Great Famine (1845-1847), the village was so densely populated that it was said that the "door-steps" were almost on top of each other.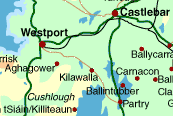 Map of Killavally (Killawalla).

Kiltarsaghaun consisted of 810 acres of land and 30 acres of water. It was owned by George Henry Moore (1810-1870) of Moore Hall, a Catholic who in 1846 was elected a Member of Parliament at Westminster for Co. Mayo. During the Great Famine, in 1846, George Henry Moore ran a horse called Coranna in the Chester Gold Cup in England. When Coranna won the cup, he used much of his winnings to alleviate the suffering of the poor in the area. It is said that no one died on the Moore estate during the famine and no evictions were ever recorded.

George Henry Moore's agent for Kiltarsaghaun was Malachy Touhy who leased it to tenants and also lived there. In the Griffith's Valuation of 1857, there were 36 families with 810 acres, or about 22 acres each. There were no Foy families, but four Walsh families: Patrick, Patrick junior, Richard, and Thomas. This Thomas Walsh could be the one who was a witness at the marriage of Dominick and Ann Walsh.

On Tuesday, May 2, my last full day, I picked some low-hanging fruit and did a little Foy research. I met with Fr. Frank Fahy in Ballintober at Celtic Furrows, who gave me baptismal dates for two children of Dominick and Anne: Patrick Foy on February 12, 1847, and John Foy on May 7, 1848. John Foy is my great grandfather. Dominick, Anne, and their son John appear in the U. S. Census in Nunda, New York, in 1850. Patrick does not appear, so he must have died.

Foy in Derreennascooba. Fr. Fahy also provided baptismal dates for five Foys whose parents were John and Bridget Gibbons Foy. A search of parish records at the National Library in Dublin in 2007 indicated that these five Foys as well as Dominick and Patrick above were all born in Derreennascooba. The name Derreennascooba comes from the Irish, "Doirin na Scuaibe," meaning "The Little Derry or Oak Wood of the Broom." The 1857 Griffiths Valuation shows that Derreennascooba consisted of 590 acres shared by 13 tenants, 45 acres on average. There was one Foy tenant out of the 13: Thomas.

With directions provided by Fr. Fahy, I drove to Kiltarsaghaun and asked at a shop owned by Michael and Maureen Walsh, which included the Killavally Post Office, if there were any Foys around. Michael referred me to Norah Brady in Kiltarsaghaun, five farms up the road on the right. I knocked on her door and found that she was the granddaughter of Patrick Foy, who had brothers named Dominick and Thomas and sisters named Catherine and Mary. Parish records show that the parents of these Foys were John and Bridget Gibbons Foy and that their children were all born in Derreennascooba. The 1901 Census shows this Foy family in Derreennascooba, headed by John Foy, 65, farmer. His wife is Bridget, 60. Living with them were three children: Pat, 28, Thomas, 26, and Catherine 20.

On a subsequent trip to Derreennascooba in 2007, I met Norah Brady's sister-in-law Margaret by chance while walking down the road there. She invited me in and told me that where she lived was the original Foy farm. Margaret then referred me to Norah's brother Charles Kerrigan who lived a few miles away in Killadeer townland, Ballyheane. Charles invited me in and provided additional information, which is reflected in the chart of descendants of Thomas and Mary Tracy Foy. Charles and Norah had grown up in the home in Derreennascooba where Margaret now lives.
John Foy m. 1858 Bridget Gibbons. Children all born in Derreennascooba. In 1885, Foy farm transfered from Thomas Foy to John Foy.

---

Mary Foy 1860-1940; married Anthony O'Malley b. 1861; lived on farm in Killadeer where Charles and Teresa Mullins Kerrigan live now.



Margaret O'Malley b. 1891, died young
Peter O'Malley 1893-1978, never married and lived on farm in Killadeer
Bridget O'Malley b. 1895
Mary O'Malley 1896-1995 m. John Carr, emigrated in Boston, no children

John Carr m. Patricia, live in Framingham
Margaret Carr m. Emmett Shea, live in Framingham
Robert Carr m. Joan
James Carr, not married

Kate O'Malley b. 1899 m. Carr, emigrated to Boston
Michael O'Malley, emigrated to Boston, never married, returned on retirement, buried in Ballyheane

Dominick Foy b. 1863; emigrated to Philadelphia, Pennsylvania, USA, Queenstown to Philadelphia aboard the steamship British Princess, arriving June 18, 1884. Married Catherine in 1893. Lived in St. Anne's Parish.



John Foy, b. 1894.
Edward Foy, b. 1896
Charles Foy, b. 1900.
Joseph Foy, b. 1903
James Foy, b. 1904.
Dominick Foy, b. 1906
Mary Foy, b. 1908.
Thomas Foy, b. 1910.

Patrick Foy b. 1866 m. Mary Gibbons. In 1918, Foy farm transfered from John Foy to Patrick Foy. In 1939, Patrick became owner of Foy farm instead of lessee.

Mary "Maisie" Foy 1908-1983 m. 1929 Thomas Kerrigan 1894-1980. In 1970 Foy farm transfered from Patrick Foy to Thomas Kerrigan.

Mary Kerrigan m. Patrick Joseph Treacey (1922-1997); lives in Westport, Co. Mayo
Norah Kerrigan m. Patrick Brady; live in Kiltarsaghaun; son is Father Thomas Brady, chaplain at Galway-Mayo Institute of Technology in Galway
John Kerrigan m. Rose Dolan, live in Co. Cork
Michael Kerrigan, twin of Charles m. Margaret Butler, live in England
Charles Kerrigan twin of Michael m. Teresa Mullins, live in Killadeer, Ballyheane
Martin Kerrigan, married Philomena Quinn, live in England
Nancy Kerrigan m. John Gibbons, live in England
Thomas Joseph Kerrigan (1946- ? ) m. Margaret Kelly. Thomas died and Margaret continues to live on the Foy farm in Derreennascooba

Thomas Foy b. 1869; stayed in Derreennascooba, never married, buried at Ballintober Abbey.

Catherine Foy 1871-1958; m. Martin Coyne; no children; buried in the Kerrigan plot in Killawalla.


| | |
| --- | --- |
| Marker for Derreennascooba (Derreenascobe) townland, south of Killavally (Killawalla), County Mayo, Ireland, 2007. | Eastward view of five of 18 sheep on portion of 21-acre Foy farm of Margaret and the late Thomas Joseph Kerrigan. Derreennascooba, south of Killavally (Killawalla), County Mayo, Ireland, 2007. Lough Nacorralea is in the background. |
Walsh Shop. At the Walsh shop, Michael Walsh gave me a 160-page soft-cover book entitled Killawalla: The Road to Our Hearts, published in November 1999 to mark the millennium. In the book were a 1969 photo of Norah Brady's children and one of Norah's mother Maisie Kerrigan (nee Foy) and a grandson. The Walsh shop is a grocery, a news agency, a light hardware store, and Post Office.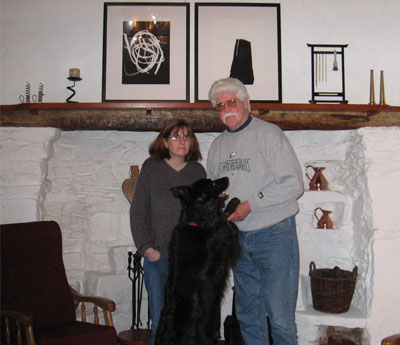 Virginia Gibbons and Bill McCarthy at their home in Kiltarsaghaun, Killavally, Co. Mayo, Ireland, 2006. Prints over the fireplace are by Virginia Gibbons.

McCarthy from Upper Darby. While talking to Michael Walsh in his shop in Killavally, a tall, outgoing man in a U.S. Army field jacket walked in and struck up a conversation with another American, me, and invited me to his home up the road in Kiltarsaghaun. It turned out that the man's name was Bill McCarthy. He was a retired high school coach from Upper Darby, Pennsylvania, married to Virginia Gibbons, an artist and Fulbright scholar. About 13 years ago, they were looking for a second home in Ireland and bought their beautiful cottage in Kiltarsaghaun for a relatively small amount of money. After three years, Bill retired from teaching and they moved permanently to Kiltarsaghaun. Since then, they have made many improvements to their home, including a sunny family room in the back.

In April 2003, Western People reported on "Signs of Life", an exhibition of thirty unique screenprints by Virginia Gibbons on show at the Linenhall Arts Centre in Castlebar, Co. Mayo. The article said, "Virginia is an American-born artist who is now resident in Mayo in a cottage just six miles from where her great grandfather was born, and these works capture the spirit of place, ambience and cultural tradition, as well as Virginia's own responses. "Signs of Life" is an exhibition of powerfully evocative abstract imagery by an artist of proven artistic vision."

After showing me around their home, the McCarthys not only gave me tea and but also invited me to stay for an American dinner of hotdogs.

Bill and Ginny were the first Americans I had met in Ireland. It was interesting to see how they had adapted to life in Ireland. And what a gracious couple!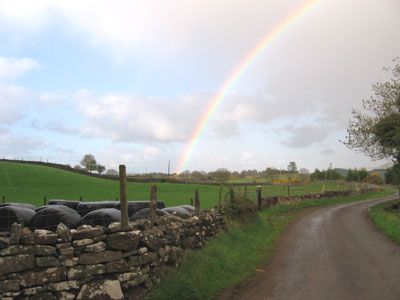 Rainbow in the east at 7:00 pm, from south of Derreennascooba, Killavally, Co. Mayo, Ireland, 2006.

A Rainbow. It had been raining earlier that day. But on the way home the sun was shining, and I saw a magnificent rainbow in the east. That night, I told two different people about the rainbow. Their responses were ho-hum: "We see those all the time."

Professor Carroll. After turning in my Opel at Hertz, and not being reimbursed for the flat tire, I proceeded to the Aer Lingus terminal at Shannon Airport. There I was greeted with a long line of people checking in. As I was resigning myself to the wait, I struck up a conversation with the professorial-looking person in front of me. This was only the second American I had met in Ireland. His name was Stephen Carroll and he was an emeritus professor of Management and Organization in the Robert H. Smith School of Business at the University of Maryland. He was originally from Boston and still has family there. He received his Ph.D. from the University of Minnesota. He had been making a speech in Limerick on industrial psychology. His brother has been doing genealogical research on their Carroll ancestors, and they have been to Co. Tipperary for meetings of the Carroll clan. I told him that my wife was a Carroll from Co. Limerick, and he offered to put me in touch with his brother. He, like Marilyn, has not been able to establish a relationship to Charles Carroll of Carrollton (1737-1832), signer of the Declaration of Independence, or his cousin, John Carroll (1735-1815), first Bishop and Archbishop of the Unites States (Baltimore).

In January 2011, I started an Ely Carroll DNA project which has identified the Y-chromosome DNA of Charles Carroll of Carrollton. Marilyn's second cousin Michael Patrick Carroll, however, has been found to have the DNA of the Mulryans and Learys rather than Ely Carroll.

Just the Beginning. There still is plenty of research to be done on our Biggins ancestors. It could take seven or eight more trips. Then it will be time to go to Limerick for the Carroll family.