By Julia Lynam, Business People-Vermont, October 2001
Founding Fathers
When other farmers in Vermont were selling land, Daniel and Leo O'Brien were buying, and in the process built a family business.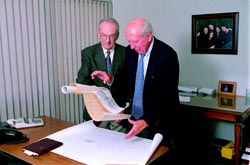 Daniel (left), a former Democratic Party committeeman, and Leo, a former member of the Vermont Senate and House of Representatives, turned to real estate brokerage in 1959, when their business recorded $5,000 in net income.

In the 1960s when many farmers in Vermont were selling their land, Daniel and Leo O'Brien, who spent their lives in agriculture, decided instead to become developers.

Their original business partnership had been set up in 1958 to manage the family's dairy farms in South Burlington, but it soon became apparent that the area was changing so rapidly and so radically that something else was needed.

"A lot of people sold off and got what seemed like what was a good price at the time," recalls Dan O'Brien, the younger brother by three years, "but the problem with that is once it's gone, it's gone." Over the years, the O'Briens have retained and added to their land holdings as they moved from cattle farming into real estate brokerage, and then into residential, commercial and light industrial development.

"My father and uncle were visionaries," says Dan's daughter, Stephanie, one of several family members who work in the business, "but they went through some very difficult times. These guys have had the longevity to ride two very difficult phases when interest rates soared in the early '80s and again 10 years later."

The brothers turned to real estate brokerage in 1959, when their business recorded a net income of $5,000. "There was a lot of competition in the brokerage business," Dan explains. "We were looking for a niche, so as we had large land holdings and strategic locations we decided to develop rather than sell. Having a heavy inventory of very choice land and excellent location gave us a big advantage."

The watershed occurred in 1968 when the brothers completed their first residential project of 36 units at Forest Park on Timber Lane in South Burlington, a development they subsequently sold. "The market was very different in 1968," Dan says. "There was nothing driving demand; we were renting two- and three-bedroom apartments for $250 and $350 a month, and we'd always have a few empty apartments." Commercial development was also less attractive in those days as companies traditionally wanted to own their premises, and the O'Briens generally wanted to retain ownership of their developments. Not so in recent years. "Now businesses prefer to lease they'd rather use their capital for other things," Dan says.

This changing market led them in the 1990s to add commercial developments to their portfolio: office buildings on Kimball Avenue and Williston Road in South Burlington, and Production Park, a 36-lot industrial subdivision under development on Marshall Avenue in Williston.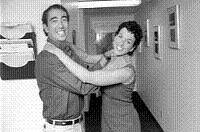 The second generation of O'Briens, Patrick and Stephanie, have a firm grasp on the family business. Stephanie credits her father, Dan, and her uncle for their ability to continue operating through two interest rate hikes, one in the early 1980s and another in the early 1990s.

Dan is especially proud of this project, pointing out that the company's commitment to quality carries over into this field: "One doesn't usually imagine industrial developments' being attractive," he says, "but Production Park is it's nicely landscaped and even color-coordinated."

Tenants include Harvey Industries, Interstate Batteries, Office Furniture USA and Carpet Warehouse. "We're trying to put up one building a year in order to accumulate an inventory of commercial buildings," Dan says.

The O'Briens own all the buildings at Production Park, as well as those on their Kimball Avenue Business Park North development, on land that was part of their home farm, letting them on long leases.

Exercising the strong degree of control accrued to a well-run family business, the O'Briens choose their tenants carefully. "It's our own back yard, after all," explains Stephanie, who, among other members of this large family, lives on the old farm property.

Business Park North includes the O'Briens' single largest building, 66,000 square feet of office space leased to the U.S. Immigration and Naturalization Service. They've turned away other possible tenants, preferring not to see fast food or automotive establishments on this stretch of road.

Following their successful start with market-rate properties in the 1960s, the O'Briens spotted a new niche in 1979 with the advent of federal government programs to subsidize sheltered housing. The risk was low; rents guaranteed; and the O'Briens had land available in desirable locations.

They started with Country Park, 76 units for the elderly in South Burlington, and continued to expand with developments like the 65-unit Whitcomb Woods in Essex Junction and Mackenzie House in Burlington. With about 200 units, they are one of the state's largest private providers of subsidized housing for elderly people and those with disabilities.

Having many tenants with special needs, the company employs its own social worker to help offer support services. "People who qualify for independent housing at the age of 62 may find 10 years later that they need more support services, and so we try to help them get those services without losing their independence," says Stephanie, who manages completed projects for the company.

Sarah Carpenter, executive director of the Vermont Housing Finance Agency, has known and worked with the O'Brien brothers and their family since they entered the elderly housing market in the late 1970s, when she worked for the Champlain Valley Agency on Aging.

"There was a lot of federal funding available, and the O'Briens did a fine job of responding to where they saw a real estate need, with affordable, rent-assisted housing and home ownership options," she says.

VHFA continues to work with them in ensuring the permanent affordability of housing in the long term, as the projects age. They recently sold some projects to non-profit organizations, which can offer a higher level of support to clients.

"They've been great to work with, very committed and community-minded realty developers who really want to be a part of the community they live in," Carpenter says. "And they're a lot of fun."

Joyce Pelletier, who with her husband, Maurice, manages the 21 year-old Country Park Apartments, echoes that. "We've been here for 11 years," she says. "It's been very good in many ways, and very challenging in dealing with the different personalities of the tenants. The O'Briens have been very good to work with and communicate with. They have a lot of compassion for the needs of others they go beyond what is required, especially when a death occurs. They know a lot of the residents and the residents have a high regard for them."

The family thread runs strongly through the business. Leo's son Patrick, part of the management team, is chiefly involved with the permitting process for new developments.

He's committed to retaining the high standards set by the older generation. "One of the things Dan and my father told me when I started getting into the business," Patrick says, "was that it's really nice to drive your children around projects that you built 20 years ago and still be proud of them." His two sons, Joey, 5, and Charlie, 3 "the new O'Brien brothers" are already familiar with some of the family's developments.

Still, Patrick's not sure he wants his sons to go into the business. "Not if the permitting process is as arduous as it is at present." he says, only half in jest.

"It's difficult to keep ahead of the permitting process in order to maintain inventory," he continues. "I can't imagine that it has ever been more difficult to receive permits for housing, and that's limiting.

"We're members of the Home Builders Association, which is our voice in the Legislature, but people in the private sector don't have time anddon't get paid to go to Montpelier to enlighten others. And our good track record doesn't count the next time around; even people we've sold houses to try to block further development."

Dan voices his agreement. "Everyone starts from the same point. You can be a great philanthropist here, but you all start from the same point.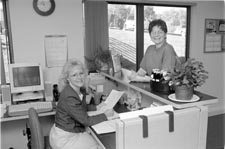 Current and future O'Brien Brothers' projects include a 101-unit residential development in South Burlington, a 68-unit development in Shelburne and a 294-acre, 17-home development in Jericho, described by a former Jericho town planning committee chairman as, "arguably the most environmentally friendly subdivision of this scale that Jericho has ever had." Pictured: Lisa Demeritt (left), housing specialist; and Rose Cheeseman, account supervisor.
"There are pressures, carrying costs and fees to pay on a development before you even put a spade in the ground," he continues. "If it gets held up one, two, three, even five years, and if you have to spend tens or hundreds of thousands of dollars having archaeological digs, it drives up the costs and can render some projects unaffordable."
"We believe that Act 250 is critical to responsible growth that sets Vermont apart from other states, and we fully support it," Stephanie adds. "However, when we're in a housing crisis as we are now, it's important to respond to it now, not in five years' time. I'm proud to be in Vermont, but we can't lose sight of what our needs are. Historically one of our biggest exports was our youth; now young people can stay in the state because there is more employment."
"Gov. Hoff was one who took a stab at changing that," Dan recalls "He felt that it just wasn't fair that people had to leave the state because there wasn't any employment, but we have to continue to develop homes, jobs and transportation if people are to stay here."
In their 40-plus years in the development business, the O'Brien brothers have rarely ventured into managing property for other people. With close family involvement, "We have the ability to control what goes into our developments, given the constraints of planning and zoning," Stephanie says.
Their properties are concentrated in a group of communities south of Burlington, where the family-owned dairy farms in the early 20th century. "We stick pretty close to our own back yard" Dan says.
"And it literally is our back yard," Stephanie says. "Patrick and I are not just fourth-generation Vermonters, we're fourth-generation South Burlingtonians. We are concerned with this area; we live in it; we drive around it. Our company office is on a sub-division of the old family farm. We consider that we have a responsibility to the community we are part of it. My father and uncle always looked to give back to the community."
This commitment of the elder O'Briens extends well beyond their business and family interests. Dan and Leo have long played roles in state politics and government, following in the footsteps of their grandfather Daniel O'Brien, who was a member of the Vermont House of Representatives for many years between 1902 and 1914.
It was this Daniel who settled the family in South Burlington, and his son Leo, father of Dan and Leo, who helped establish a water system for the town in the 1930s, serving 33 residents.
Dan served the Democratic Party as a state and national committeeman for most of the 1960s and '70s. He was on the state Board of Health and chairman of a Governor's Commission on Medical Concerns. He is still chairman of the state Board of Liquor Control and is a director of the National Alcohol Beverages Control Association.
Leo served as a member of the Vermont House of Representatives and in the state Senate throughout the 1960s and ran as Democratic candidate for governor in 1970. He was Vermont commissioner of agriculture from 1973 to 1975 and served as special assistant to U.S. Sen. Patrick Leahy.
Among their many local and state commitments, both brothers have been members of the boards of directors of local banks. Stephanie served a three-year stint on the Vermont Housing Council.
At 68 and 71, Dan and Leo O'Brien are set to continue in partnership, planning, developing and expanding their inventory of buildings.
The younger members of the family are happy with that. "It's nice to have the older generation loosen the reins a bit but also to have a firm hold on it," says 34-year-old Patrick.
Current and future projects include the 294-acre, 17-home Rogers Forest development in Jericho, described by Henry Kite, former chairman of the town's planning committee as "arguably the most environmentally friendly subdivision on this scale that Jericho has ever had." A 101-unit residential development off Hinesburg Road in South Burlington is in the permitting phase, and a 68-unit development on Irish Hill Road in Shelburne is in the conceptual phase.
Aside from business acumen and community commitment the O'Briens' obvious strength lies in the unity and focus of the family, and the appreciation of one generation for another. Patrick explains that his uncle and father, Dan and Leo, make great business partners "because they have different personality traits. No one individual could have all of those traits."
Stephanie singles out the most important ones: "Their loyalty to each other and respect of each other they always support each other without question. Something has to be working well for Patrick and myself to be walking in and taking up the reins for the next generation."