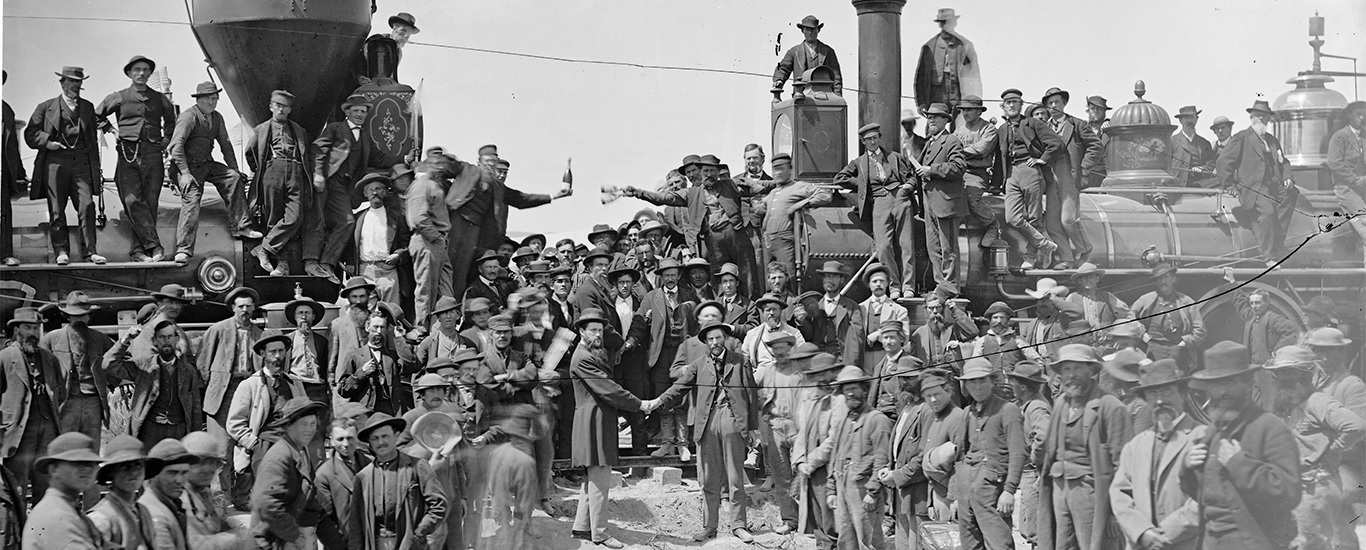 Promontory Summit, Utah, May 10, 1869. Central Pacific Jupiter and Union Pacific No. 119. Photo by Andrew J. Russell (1830–1902) official photographer for the Union Pacific Railroad. Oakland Museum of California.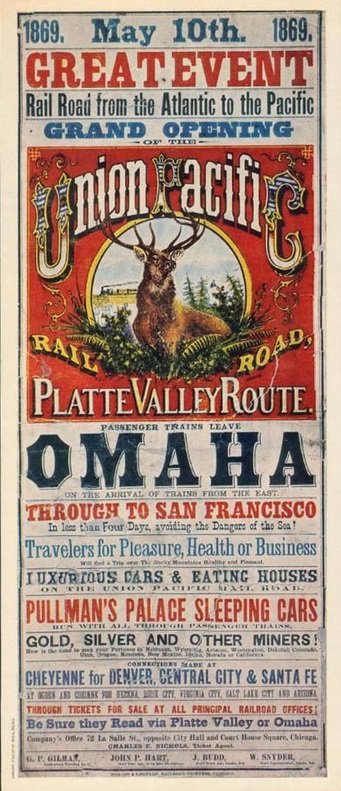 Grand Opening of the Platte Valley Route of the Union Pacific from Omaha to San Francisco, May 10, 1869.

Family lore has it that my great grandfather John Foy worked for the westward-bound Union Pacific Railroad in the Wasatch Mountains in Wyoming and Utah building the first transcontinental railroad, and was present at the Golden Spike Ceremony at Promontory Summit, Utah, on May 10, 1869. The new railway turned a four-month cross-country journey into a one-week trip.

On December 4, 1868, the Union Pacific reached Evanston in Wyoming Territory, near Utah territory. In Utah Territory, the railroad crossed the Wahsatch Mountains. To speed up construction, the Union Pacific hired several thousand Mormon workers. The tracks reached Ogden, Utah, on March 8, 1869. From Ogden, the railroad went north of the Great Salt Lake to Brigham City and Corinne using Mormon workers, before finally connecting with the Central Pacific Railroad at Promontory Summit. The last two rails on the Union Pacific side were laid by Irishmen.

John was 21 at the time of the ceremony. John was baptized on May 7, 1848, at St. Patrick's Church in Killavally, County Mayo, Ireland. His family immigrated to America in 1849 and lived in Nunda, New York. In 1853, they moved to the Near North Side of Chicago.


Utah commemorative quarter-dollar coin released in 2007.

Construction started in Council Bluffs, Iowa, in 1863, but little would be completed until April 9, 1865, when Confederate General Lee surrendered to Union General Grant at the Battle of Appomattox Court House. Most of the workers on the Union Pacific were recruited from the many soldiers discharged from the Union and Confederate armies in 1865, along with emigrant Irishmen. There is no record of John as a soldier or sailor in the Civil War. But he was an emigrant Irishman. John turned 17 in May of 1865.

There are two stories about John and Indians out West. In one story, he rounded a boulder and came face to face with an Indian. They scared each other and ran in opposite directions. The other story is that John got sick and the Indians nursed him back to health.

John must have learned a lot about construction working for the Union Pacific. In 1872, a year after the Great Chicago Fire, he married Mary Stanton and is listed as a laborer in the Chicago city directory. He built a four-apartment building on Altgeld Street in 1893, which he lived in and where ny father was born. He built a much larger apartment building on Byron Street in 1914, the same year that Wrigle Field was built two blocks south. He built an even larger apartment building on Sheffield Avenue with my grandfather Leslie Biggins in 1925. He died in 1936 at age 88.

John a Soldier in 1870? John Foy, age 22, may have been counted twice in the 1870 census.
In the Chicago census taken on June 9, there is a John Foy, 17, day laborer, listed with Dominick and family, but he was added on at the end of the children and his age is five years too low.
In the Camp Three Forks census taken on July 5, there is a John Foy, 28, Soldier in the United States Army. His age is six years too high.
Camp Three Forks was in Idaho Territory, Owyhee County, Silver City Post Office. The census includes 89 people:
1 Captain and Brevit Colonel, born in Ireland
1 First Lieutenant
1 Second Lieutenant
1 Post Trader
1 Surgeon
81 soldiers, 18 of whom were born in Ireland
3 laundresses
Camp Three Forks was on Soldier Creek, four miles north of what is now Cliffs, Idaho. It was 50 miles west of Silver City. It was 375 miles northwaest of Promontory Summit. It was in existence for five years. It was established in 1966 on Soldier Creek, as Camp Winthrop. In 1867, Camp Winthrop became Camp Three Forks. It was closed, October 23, 1871. The whole installation was auctioned off for ninety dollars, and became a cattle ranch. (This happened just two weeks after the Great Chicago Fire.)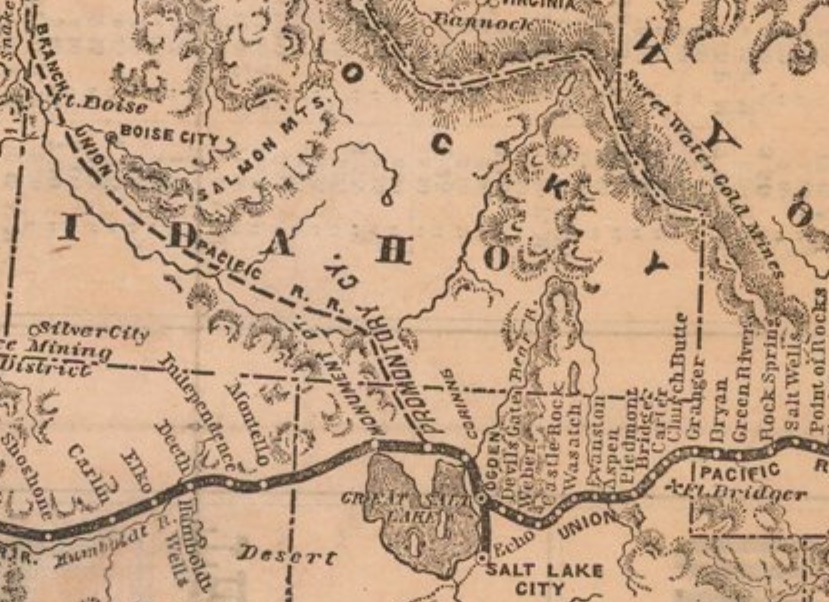 Map showing Silver City in the southwest corner of Idaho, the Post Office for Camp Three Forks in the 1870 US Census for Idaho. Promontory Summit is in the center of the map. The Union Pacific Railroad and the Wasatch Mountains are on the right side. (Evanston and towns east later became part of Wyoming to make it a square state.) From 1869 map of The Great Platte Valley Route of the Union Pacific Railroad. Engraved by Fiske & Russell, New York.
The Captain and Brevit Colonel was Irish-born John J. Coppinger. He was born in Cork in 1834. He joined the papal guards as a lieutenant to fight against Victor Emmanuel in the Papal Wars. For his defence of the La Rocca gateway in September 1860, he was made a chevalier by Pope Pius XI. He emigrated to America in 1861 to fight in the U.S. Civil War. In 1861, he was made captain in the 14th Infantry Regiment. In 1866, he was transferred to the 23rd Infantry Regiment headquartered at Fort Boise in Idaho Territory. In September that year, he established Camp Winthrop on Soldier Creek, which became Camp Three Forks. In 1883, at age 49, he married Alice Stanwood Blaine, 25 years younger than himself. She was a daughter of Maine Senator James Gillespie Blaine. In 1898, was made a Major General. General Coppinger died at his home in Washington on November 4, 1909, and after funeral services at Saint Matthew's Cathedral, he was buried at Arlington Cemetery under a stone carved in the shape of a Celtic cross.