Only three of our ancestors in PetersPioneers fought in the Civil War. One was William Koch, who served as a sergeant in the Third Michigan Infantry Regiment. This story is about the other two--Peter Schickell and Joseph Schickell. They were brothers, and they both were regimental band leaders.
Peter was born January 17, 1833, and was a year old when he came to America in 1834 with his parents, John Adam and Eva Maria Schickell and three sisters from Bavaria. They were from Kassel, which is 32 miles east northeast of Frankfurt. At that time, Kassel was in the Main-Kreis region in the far northwest corner of the Kingdom of Bavaria. In 1866, as a result of the Treaty of Prague, Kassel became part of what is now the Kinzig-Main-Kreis region in the far south of Hesse. Kassel is small village and is now part of the town of Biebergemund.
The Schickells settled in Tiffin, Ohio, and had three more children there. The last was Joseph, born on September 23, 1839.
In April 1842, Charles Dickens stopped in Tiffin to have lunch at the hotel and transfer from private stage coach to railroad. Peter would have been age 9 and Joseph 2.
In August 1853, the Schickells moved to Grand Rapids, Michigan. Joseph, 13, went with them, but Peter, 20, stayed in Tiffin.
Peter and Joseph's father, John Adam, was a music teacher, which explains why they served as regimental band leaders in the Civil War.
On November 6, 1860, Abraham Lincoln, who had declared "Government cannot endure permanently half slave, half free..." was elected president, the first Republican, receiving 180 of 303 possible electoral votes and 40 percent of the popular vote. On December 20, 1860, South Carolina seceded from the Union, followed within two months by Mississippi, Florida, Alabama, Georgia, Louisiana and Texas. On February 9, 1861, The Confederate States of America was formed with Jefferson Davis, a West Point graduate and former U.S. Army officer, as president. On March 4, 1861, Abraham Lincoln was sworn in as 16th President. On April 12, 1861 - At 4:30 a.m. Confederates under Gen. Pierre Beauregard opened fire with 50 cannons upon Fort Sumter in Charleston, South Carolina, beginning the Civil War. On April 17, 1861, Virginia seceded from the Union, followed within five weeks by Arkansas, Tennessee, and North Carolina, thus forming an eleven state Confederacy. On April 20, 1861, Robert E. Lee resigned his commission in the United States Army and accepted command of the military and naval forces of Virginia.
Joseph Schickell

Troops of the Third Michigan Infantry Regiment received this regimental flag, hand embroidered in white floss with an eagle on both sides. Source: Michigan Historical Museum.

On June 10, 1861, Joseph, 21, enlisted for three years in the U. S. Army at Grand Rapids, Michigan, as a 2nd Class Musician in the Michigan 3rd Infantry Regiment. The Third was organized at Grand Rapids and was mustered into service on June 10, 1861, with an enrollment of 1,040 officers and men. The regiment left Grand Rapids June 13, 1861, for Washington D.C. to join the Army of the Potomac, and one month afterward took part in the action at Blackburn's Ford, Virginia, on July 18, 1861. Joseph was promoted to 1st Class Musician on September 1, 1961. The Third went into winter quarters at Alexandria, Virginia, until March 1962, when it was assigned to General Berry's Brigade, Third Division, Third Corp, then entered upon the Peninsular Campaign of 1862 conducted by General McClellan. The Regiment was engaged in the battle of Williamsburg on May 5th, fought gallantly at Fair Oaks. It engaged the Confederates at Charles City Cross Roads, June 30th then at Malvern Hill July 1st. During the entire campaign, the Third was marching or constructing fortifications, when not fighting the Confederates in the historic battles on the Peninsular Campaign. The campaign ended at the battle of Malvern Hill.

On July 17, 1862, Congress passed a law that ordered the mustering out of regimental bands. The bill was approved by the President and announced in the War Department's General Order 91 of July 29, 1862. Joseph was discharged at Harrison's Landing, on the James River, south of Richmond, Virginia, on August 13, 1862, having completed 14 months of service. It so happened that when the order of disbandment reached the Army of the Potomac, the bands had seen considerable and hard service on the Peninsula, under General McClellan, and therefore the men gladly accepted their discharges.

On December 30, 1863, Joseph, 24, again enlisted in the U. S. Army as a Private in Company B of the 1st Michigan Regiment, Engineers and Mechanics. His occupation was given as carpenter. His physical description was grey eyes, brown hair, light complexion, and 5'5" tall.

On March 1, 1864, Joseph was placed on detail to regimental headquarters to play in the Band. On May 1, he was made leader of the Regimental Band. He was promoted to Artificer on November 1, 1964, and Sergeant on April 5, 1865.

The regiment was made up primarily of engineers and mechanics. It did not function as a unit but was broken into four detachments assigned to divisions of the Army of the Ohio. These units performed engineering duty on the Nashville & Chattanooga Railroad, Nashville & Northwestern Railroad, the Tennessee & Alabama Railroad and the Memphis & Charleston Railroad. They re-opened the Tennessee River. They performed engineering duty on the Memphis & Charleston Railroad and the Atlantic & Western Railroad. They were ordered to Atlanta, Georgia on September 25. On the march to the sea they destroyed railroad track and bridges. They were present at the Siege of Savannah December 10-21 and went on to participate in the Carolina Campaign January to April, 1865. They were back in Tennessee to work again on the Nashville & Chattanooga Railroad. They participated in siege of Murfreesboro, Tennesee December 5-12, 1864. They rejoined Regiment at Goldsboro, N. C., March 25, 1865 and advanced on Raleigh April 10-14. Occupation of Raleigh April 14. Bennett's House April 26. They marched to Washington, D. C., via Richmond, Virginia, April 29-May 20. They participated in the Grand Review May 24. They returned to Nashville July 1, were mustered out September 22, and were discharged at Jackson, Michigan on October 1, 1865.

Joseph was among those discharged at Nashville, Tennessee, on September 22, 1865, having completed 20 months of service. We know nothing more about Joseph except that his father's notebook, written in 1878-79, says he "participated in the war in the southern states and lies buried in Columbus, Ohio." And, his father's 1879 obituary says that Joseph "entered the service against the rebellion and died in the cause of his adopted country."
Peter Schickell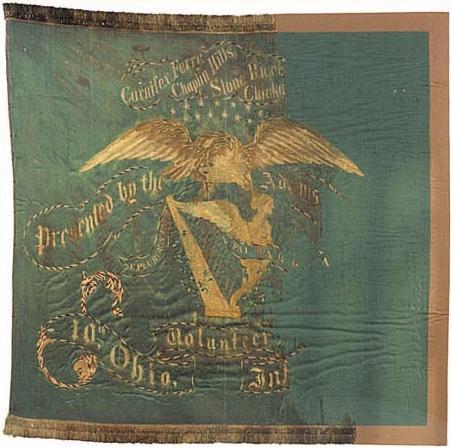 The battle flag of the Ohio 10th Infantry Regiment, a mostly Irish-American regiment led by William Haines Lytle. The 1861 flag, made of green silk, with gold embroidery and red highlights, needed extensive work to make it presentable. About 40 percent of it was missing, and the rest was in many small pieces. Source: Cincinnati Museum Center.

On September 7, 1861, Peter, 27, enlisted for three years in the U. S. Army at Cincinnati, Ohio, as a Musician in the Ohio 10th Infantry Regiment, also known as the Bloody Tinth. Peter had stayed in Tiffin, Ohio, when his family moved to Grand Rapids in 1853.

The 10th was organized at Cincinnati, May 7th, 1861, for three months service, and June 3d, for three years, under Colonel William Haines Lytle. During Peter's enlistment, the 10th served in the numerous battles. West Virginia Campaign July to September, 1861. Battle of Carnifex Ferry September 10. Operations in the Kanawha Valley and New River Region October 19-November 24. Pursuit of Floyd November 10-15. Gauley Bridge November 10. Cotton Mountain November 10-11. Moved to Louisville, Ky., November 24-December 2, thence to Elizabethtown, and to Bacon Creek December 26. Duty there till February, 1862. Movement to Bowling Green, Ky., February 10-15. Occupation of Bowling Green February 15-22. Advance on Nashville, Tenn., February 22-March 2. Advance on Murfreesboro March 17-19. Occupation of Shelbyville, Fayetteville, and advance on Huntsville Ala., March 28-April 11. Capture of Huntsville April 11. Advance on Decatur April 11-14. Action at West Bridge near Bridgeport April 29. Duty at Huntsville till August. March to Louisville, Ky., in pursuit of Bragg August 27-September 26.

On July 17, 1862, Congress passed a law that ordered the mustering out of regimental bands. The bill was approved by the President and announced in the War Department's General Order 91 of July 29, 1862. Peter was discharged as a 1st Class Musician at Nashville, Tennessee, on September 10, 1862, having completed 12 months of service.

After his discharge, Peter went to Grand Rapids rather than Tifffin. In June/July 1863, Peter was included in the Class I draft list for Kent County, Michigan. Class I included men 20-35 and unmarried men 36-44. Peter was listed as being from the Second Ward, age 30, occupation Musician, Single, born in Germany, and no former military service.

In 1867, Peter married Ann E. Cordes. They lived in Madison, Wisconsin, for a couple years, where their first two children, Anna and Cecilia, were born. By the 1870 census, however, they were back in Grand Rapids, where their third child, Eugenia, was born. Peter was shown as a retail grocer in the 1870 census and a musician in the 1880 census. In the 1889 Grand Rapids city directory, he was a partner in Shinkman and Shickell, engaged in insurance, real estate, and loans.

On July 7, 1903, Peter, age 70, applied for a Civil War disability pension based on his service as a Musician in the 10th Ohio Infantry.

Peter died on June 14, 1910. On June 20, 1910, Peter's widow, Annie, applied for a Civil War widow's pension based on his service as a Musician in the 10th Ohio Infantry. Annie died on June 1, 1920.

The memory of 1st Class Musician Peter Schickell and the Bloody Tinth lives on in the form of a band called The Bloody Tinth, a Cincinnati based American-Irish rock band. Rachel Schott, the violinist for the band, brought this to our attention in February 2011: "We're releasing our first full length cd in March and re-launching the website and so it was in a search for some images related to the real Bloody Tinth that I came across your information. My mother is an amateur genealogist (and the drummer for the band is my brother). It will be a delight to all of us to share your website and the knowledge of Mr. Schickell. We have so much fun playing music, driving to pubs, enjoying the hospitality and good food of so many establishments and people…but we truly hope to honor the original Tinth with our music and hope that we can meet you someday."
| | |
| --- | --- |
| Violinist Rachel Schott and The Bloody Tinth. | The Bloody Tinth drum. |