Roger William Byrne, was born February 26, 1962, in Jamaica Hospital, Queens, New York. He was the only child of William and Ruth Lyden Byrne, They lived in Parkway Village at 81-26 150th Street, Jamaica, Queens, New York. Roger was baptized on March 25, 1962, at St. Nicholas of Tolentine Church, 150-75 Goethals Avenue, Jamaica, Queens, New York.
William X. Byrne was born August 7, 1929, in Queens, New York. Source: New York City Department of Health, courtesy of www.vitalsearch-worldwide.com. His parents were Charles and Mary Gow Byrne. He died January 8, 2017, in Lake Worth, Florida.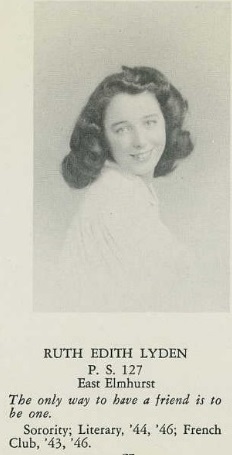 1946 Yearbook for Saint Agnes Academic High School, College Point, New York.

Ruth E. Lyden was born September 24, 1928, in Queens, New York. Source: New York City Department of Health, courtesy of www.vitalsearch-worldwide.com. Digital Images. Her parents were Martin and Agnes McTavey Lyden. She attended Public School 127 and Saint Agnes Academic High School, College Point, New York

Ruth E. Lyden married William X. Byrne in Manhattan in November 27, 1951. Source: Index to Marriages, New York City Clerk's Office, New York, New York.

Ruth E. Byrne, PFC, U.S. Army and wife of William X. Byrne, was born September 24, 1928. She died November 10, 1981, and was buried November 16, 1981, at Calverton National Cemetery, 210 Princeton Boulevard, Rte. 25, Calverton, NY, in Section 7, Site 814. Source: National Cemetery Administration. Nationwide Gravesite Locator.

Roger says his "grandfather Martin Lyden was said to be of French, Irish, and Swedish decent. He was the one who rode a motorcycle in WWI and was mustard gassed. He fed the family of a wife and 3 daughters by working on the IRT. In an interview for the job he was asked if he could type? He said yes but never told them it was only about 10 words a minute. He was orphaned somehow and was on his own when he was in his teens. My mother used to tell me he loved to ride the rails coast to coast. My mother said his favorite thing was to send a post card from California and be back in New York before it arrived. Both of my grandparents were spoken of very highly. My grandmother Agnes used to love the wrestling matches and my father would say this meek mild lady would go nuts and curse a blue streak during a heated match. He thought it was so funny because it was so out of character for her."

Carroll's husband Roger died at age 59 on August 15, 2021, at Danbury Hospital. He had sent many of us an email six months earlier:
Hello Friends, As most of you know I have been sick for the last several years with colon cancer….I have been undergoing chemotherapy for the last 3 years. It has taken its toll as i am down to 138lbs and i sleeping about 16 hours a day. Well I went in for my last cat scan to see my progress or lack there of. I am sorry to say the prognosis is not good. The cancer has spread from my Co to my lungs and liver. My oncologist gave me about 2-3 months more. WE are trying a new chemo drug but it does not look good. I figures i owe it to you all to know why I will disappear soon. I have a referral to Sloan Kettering to see what they can do but I am realist, it is not good.
As my friends you have know how I have lived my life…..regrets I have few…I only have one thing left on my bucket list and that is to ski Chamonix France but that is not happening.
I am at peace with my life…I have raised two excellent sons, I leave my wife a multi millionaire she has no debt…our house is paid off, college is paid for there are no money worries. My children are on the straight path with one being a Dr. and the other a math major. I wish i had more time but I felt I got the most out of the time I was here. You all know I had a LOT of fun in life. It may be shorter than most but man I had soooo much fun from sky divining to scuba diving with my kids all over the caribbean. And our adventures skiing where both of my sons walked down the tallest mountain in VT in ski boots. As well as the insanity that goes with ski racing. And that does not even mention the insanity that was travel baseball.
I am not in any pain but there is now talk of hospice for me in the near future. I wish I did not have to write this but I feel I owe to all of you. Just know I at peace with myself, I have no fear of death as my life right now makes living not so easy. I would list the number of ailments but I am tired of telling people what is bothering me….I have done everything I could to beat this and i lost….but man I had more fun that most people in their life so I am ok with everything because there is nothing I can do anyway….
I look at this way I have two excellent sons, a wife who is going to have millions and own our house outright, so I have taken care of all of the physical things that need minding. The one thing that worries me is my wife Carroll in that Sean is going to medical school in AL and Dan will be away at college so it will just be Carroll and the Bear in the fall….She has never lived by herself and that is going to be the hardest part. So if you can check up on her once in a while…I would appreciate that. I love you all and I am sorry for this e-mail and its sad tone but I felt I owed it to you all to know what is going on……I wish there was better news but I am realist and remember at my funeral it is a celebration of my life not a mourning of passing. Get drunk and have a good time I am sure there are enough stories about my life to keep the party going for a while…..I don't feel cheated by life because man I did it all….my sons are successful my wife is secure…I did my job….so in that sense I feel complete….so don't fell bad for me as I have had more fun and adventures than most people have in 2 life times….I I have never mentioned the adventures I had in Europe working for USAID or my childhood in NYC in the 70's when there were no rules and I took full advantage of that fact…..So there are even more stories…I will miss you all and That is the end to which every story must have….. Love, Roger ….
There was a Funeral Mass for Roger at St. Edward the Confessor Church in New Fairfield. Roger's ashes were in a nice wooden box in front of the altar. Daniel read the Epistle. Sean spoke about his father's life at the end of Mass. The last time I had been there was for Daniel's confirmation about 10 years ago. Carroll hosted a dinner afterward for family and friends at Barbarie's Black Angus Grill in Danbury. Carroll and Roger's friend Mark Gurliacci had put together an extensive slide show of pictures of Roger's life. Here is what Sean said:
My dad always said a good Irish funeral is a celebration of the life that was lived, with drinks and stories afterwards. So I'll do my best here but I'll need help with the second part. As some of you may know I am currently in medical school in Alabama, and yes it is very different from Connecticut. While I was studying last week I got a call from my dad's oncologist. She told me that in her 10 years of practicing oncology my dad was her favorite patient. She said I've never had a patient complain less than your father. She told me about his first day at her office after just being diagnosed with cancer he looked at her and said "I don't want to be here, do you want to be here? I don't think anyone wants to be here" . Even facing cancer my dad was still himself. One of his favorite lines was "don't take life too seriously, no one makes it out alive.
Although one thing she harped on was how well my dad did. When they originally gave him a year, he made it four. Even this year when they said he had two months, he made it 8 months. I know that what kept my dad going was his family. Throughout early treatment and even when it got tough at the end he would say "you know I'm doing this for you guys". While at 24 years old I won't pretend to have life figured out. I do know that life is hard. And that a loving family and good friends by your side are what help make it through the tough times. My dad was a lot of things to people. For my brother my dad was his debate partner, they loved to debate ideas, issues, the best flavor of ice cream, you name it they debated it. They wouldn't always agree but they agreed on loving each other. And mom, he had mountains of love for you and would say he won the lottery by finding you. He would tell me "there is no one in this world I trust more than your mother". You're the strongest woman I know and I'm proud to call you both my parents.
For me he was a dad that was always there, strict and sometimes brutally honest but always supportive. I remember in 4th grade when I struggled in math he would spend up to 4 hours a day teaching me math. He was not a fan of the new math system, but he made sure I knew it in the end. When I didn't make the 9s baseball team because I couldn't catch a fly ball. He hit me fly balls countlessly for an entire summer. I made the team the next year. Whenever I asked, he was always there for me. Even when I went to college, a phone call with my dad would always put me at ease, from girl problems, to school to just life. He always seemed to have an answer and even when he didn't, he knew how to make me feel better. The adventurous, loving, friendly man that was my dad will continue on. His sense of adventure was infectious, and passed on to his sons. My brother and I were on skis at 3, and certified scuba divers at 11 and 12. With a few "don't tell mom" moments in between. Even though he always told her. His brains and obscure knowledge can be seen in my brother. His love for the New York Yankees and pizza were passed on to me. And the deep sense of character he instilled in his sons which he defined as "what you do when no one is looking". And while I miss him a lot I know he is smiling down on us and the spirit of Roger Byrne is still with us, you just have to look.