Jo Bates, Sherry Custable, Patricia Rinker Minogue, Elizabeth Ford Paullin, and Sean Roche contributed to this study.
The surname Foy/Fee is found in north Connacht, which includes County Mayo. It is a variant of Fee, which is found in County Fermanagh, which is in Ulster. The name Foy/Fee comes from the ancient Irish word for raven and has been anglicized as Hunt. Rev. Peadar Livingstone, on page 427 of his The Fermanagh Story says the Fees "were a Cenéal Eóghain family who settled in Derrybrusk. Here they were herenachs and often vicars."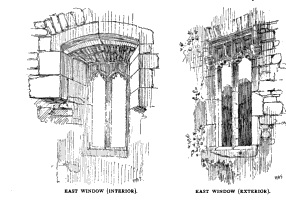 East window (interior) and East Window (exterior) of the old church at Derrybrusk (Airech Brosca). From "Derrybrusk, on Lough Erne" by Rev. J. E. MacKenna, Ulster Journal of Archeology, January 1906, Vol. 12, p. 126.
An article by Rev. J. E. MacKenna in the Ulster Journal of Archeology, entitled "Derrybrusk, on Lough Erne" states that "the old church of Derrybrusk, which is approached by the least inviting of Fermanagh by-ways, stands not in the townland of Derrybrusk, but in the townland of Fiagh, between Derrybrusk and the shore of Lough Erne. Fiagh probably owes its name to Gilchreest O'Fiaich (anglicized Fee), a learned vicar of the place, who died A.D. 1482, after having maintained a house of general hospitality for upwards of half a century. The Annals of Ulster, compiled within a few miles of his habitat, tell us, A.D. 1482," Gilla Crist O'Fiaich, Vicar of Airach Brosca, died this year: to wit, an eminent cleric, and a man that kept a guest-house for a long time—for 40 years—bountifully. . . . Prior to the Inquisition held by Sir John Davies, the place had no other name than Aireach Brosca. Neither Davies nor any of his assistants knew Irish. They wrote down the names of places as they heard them pronounced by the residents. This is only one out of many instances in Fermanagh in which they turned Airech into Derry. The patron saint of Airech Brosca is Senach, who is spoken of as a smith or a worker in metal. The Martyrology of Donegal, 11 May, records, "Senach, the smith, son of Etchen of Airiud Brosca, on Loch Eirne."
The medieval Irish office of erenagh was responsible for receiving parish revenue from tithes and rents, building and maintaining church property, and overseeing the lands that generated parish income. The erenagh had the tonsure but took no other holy orders; he had a voice in the Chapter when they consulted about revenues, paid a yearly rent to the Bishop and a fine on the marriage of each daughter. The role usually passed down from generation to generation in certain families in each parish.

From The Surnames of Ireland by Edward MacLysaght, Barnes & Noble, Inc., 1969.


From The Surnames of Ireland by Edward MacLysaght, Barnes & Noble, Inc., 1969.


From Irish Names and Surnames by Rev. Patrick Woulfe, Dublin,1923. Reprinted by Genealogical Publishing Co. in 1967, 1969, 1993.
In 1975, James O'Fee of Knockmore Park, Bangor, County Down, received a letter about the name Ó Fiaich from Monsignor Tomás Séamus Ó Fiaich (1923-1990), president of Maynooth College. Monsignor Ó Fiaich had been Professor of Modern Irish History there from 1959 to 1974 and was President of the College from 1974 to 1977. In 1978 he became Cardinal Archbishop of Armagh and head of the Catholic Church in Ireland. In the letter about the name Ó Fiaich, Monsignor Ó Fiaich said: "The name Ó Fiaich means, of course, the grandson or descendant of Fiach (the raven). Fiach was occasionally used as a forename, presumably first given to someone of a dark or swarthy appearance.

"In medieval times the name is most closely associated with Co. Fermanagh. The Ó Fiaich family were Erenaghs--- (i.e.the local family who occupied the churchlands and out of their revenues looked after the upkeep of the parish church) in the parish of Derrybrusk along the shores of lough Erne. Many members became Rectors and Vicars of that parish during the two centuries immediately before the Reformation. There is even a townland in the parish still called Fyagh which probably takes its name from the family. One finds several families of the name still in Co. Fermanagh but they have now all dropped the 'O' as far as I know.

"In the seventeenth and eighteenth centuries the name occurs in various hearth money rolls and other population lists in Co. Monaghan and several of them at that time were written O'Fee. My grandfather was a native of co. Louth – he was born around the time of the famine – in the corner of north Louth which borders on Monaghan and Armagh. He moved to Co. Armagh as a farm labourer at the end of the 1870s, married there and ultimately was able to buy a little house. My father was born there in 1882.

"Occasionally the name Fee or O'Fee has been mistranslated into English as Hunt, because of the resemblance in pronounciation of the Irish word fiach (raven) with fiadhach (a hunt). I have looked up the parish registers of my own native parish which go back to 1796 but even then my ancestors in the direct line used the spelling Fee. The O had already disappeared before then even among them until fairly late and my grandfather who did not dies until 1927 was, I understand, a good speaker of Irish."
The Fees are descended from Niall of the Nine Hostages, and his son Eoghan. Eoghan's descendants, known as the Cenél Eóghain, produced the Royal Houses of Ulster: the O'Neills of Tyrone, the O'Neills of the Fews, the O'Neill's of Clannabuidhe, the powerfull Maclochlainn's of Ulster, Clan Lamont, and Clan MacNeil of Barra. Eoghan travelled north from the kingdom of Connacht into the western and northern regions of the kingdom of Ulster (county Donegal). It was here in the 5th century that the Cenél Eóghain established their power base at Inishowen and their capital at Aileach. By the 11th century the Cenél Eóghain had moved their power base from Aileach to that near Tullahogue in modern day county Tyrone (named from Tir Eóghain, or Tir Owen). For more information on the Cenél Eóghain, see Northern Uí Neill.
For information on Niall of the Nine Hostages, see: The History of Ireland, by Geoffrey Keating (1569-1644), translated into English from the original Irish by John O'Mahony, 1857, pages 372 to 394. The Nine Hostages are explained on page 394.
The DNA of descendants of Niall of the Nine Hostages, more properly known as Northwest Irish, was first identified in a Trinity College Study by a SNP called M222 (also called R1b1a2a1a1b4b). There is a R-M222 DNA project at Family Tree DNA administered by David Wilson. The modal DNA for Northwest Irish can be found in ySearch at: M5UKQ.
Foy/Fee surname variants are found in several DNA projects at Family Tree DNA, which has the largest DNA database in the field.
Foy DNA project. There are no Y-DNA members in this project yet. Marleen Sue Van Horne is the Group Administrator. Her personal Web site is at: things 'n' stuff. Her email address is msvnhrn@jps.net
Fay DNA project. This project includes one person who has the DNA of Niall of the Nine Hostages: kit No. 146178. With 67 markers tested, he has a genetic distance of 5 from Niall (Northwest Irish) modal DNA. The email address of the Group Administrator is: terry@worldfamilies.net
Hunt DNA project. This project includes one person who has the DNA of Niall of the Nine Hostages: kit No. 142758. His DNA has tested positive for the M222 SNP, and his haplotype is R1b1a2a1a1b4b. This haplotype is unique to Niall of the Nine Hostages, also known as Northwest Irish. With 37 markers tested, he has a genetic distance of 4 from Niall modal DNA. The email address of the Group Administrator is: huntdb@cfl.rr.com
Genetic distance occurs because of mutations from one generation to another. If two people are identical in all markers except they are off in one marker by 1 point, the genetic distance would be 1. If they were off at 2 different markers by 1 point in each marker, then the genetic distance of those two samples would be 2. If they are off by 2 points at one marker and 1 point in a second marker, then the genetic distance would be 3. 12, but the genetic difference between 0 and 12 is treated as 1. Based on FTDNA practice, genetic distance for some markers is limited to 1. This method of computing genetic distance is called the hybrid mutation model.
By testing the Y-DNA, males can determine the origin of their paternal line. Note that the Y-DNA strictly checks the paternal line, with no influence of any females along that line. Females do not receive the Y-chromosome, and therefore females cannot be tested for the paternal line. If you are a female and would like to know about your paternal line, you would need to have a brother or a male relative from that line to be tested. By testing the mtDNA, males and females can determine the origin of their maternal line. Note that the mtDNA strictly checks the maternal line, with no influence of any males along that line. Both males and females receive the mtDNA from the mother.
If you are a male with the name Foy, Fee, Fay, Hunt, or another variant, you may benefit from particpating in a Foy/Fee/Hunt DNA projects listed above. I strongly recommend the 37- or 67-marker test.
Elizabeth Ford Paullin "Libbet" Terrell provided information about her great great grandparents from Carrowmore in County Mayo. This Carrowmore is southwest of Ballina. Carrowmnore is next to Tulleysleva, where the Munnelly family lived. In 1848, the family emigrated to Lake County, Illinois. They appear in the 1850 U.S. Census in Waukegan, Illinois. They appear in the 1860 U.S. Census in Deerfield, Illinos. Both towns are north of Chicago.
Family Tree. The family tree of the Foy family from Carrowmore is shown below.
Patrick Edward Foy b. 1797 or 1804 and Catherine Munnelly/Manley 1808-1860 were married in 1828 in Claremorris and had 12 children in County Mayo, moved to Lake County, Illinois, and had one child there:

---

Martin John Foy b. 1830 m. Mary Ann Dwyre in Illinois



Emma Jean Foy 1850-1913 m. Bernard Conlon (1849-1928)
John Charles Patrick Foy 1852-1912 m. Elizabeth "Lizzie" Gundry

Leroy "Roy" Foy 1877-1962
Mabel Clair T. Foy 1880-1971
Austin Foy 1885-1918
Oscar Foy 1885-1952
Lomie L. Foy 1887-1924
Sylvester Foy 1889-1967
Emma C. Foy 1893-1895
John Charles Foy 1896-1943
Elizabeth L. "Betty" Foy 1899-1924 m. Joseph Robb

Sylvester James Foy 1855-1931 m. Ida Malvina Austin; moved to Coldwater, Michigan, then Barnes County, North Dakota

Percy Joseph Foy 1881-1969
Shelley Austin Foy 1886-1965
Emma A. Foy 1889-1963
Amy Elizabeth Foy 1893-1919
Eva Foy b. 1894
William Eugene Foy 1898-1979
Dewey P. Foy b. 1900
Charles Arthur Foy b. 1892

Anna Foy b. 1856
Catherine "Katie" Foy 1857-1924

Peter Foy b. 1833

Mary Jane M. Foy 1833-1915 m. 1853 Harmon Osborn in Indiana; moved to Bethel, Michigan John Foy 1834-1880 m. Mary Margaret Galevin 1825-1887

Catherine "Kate" Foy b. 1854
Anna Josephine Foy 1856-1905 m. John Higgins Synon 1847-1922

Mary K. Synon 1881-1965
John Foy Synon 1883-1935
Gerald Synon 1886-1886
Katherine Josephine "Katie" Synon 1892-1976

Patrick Foy b. 1836

Catherine "Cate" Foy b. 1838

Bridget Marie Foy 1839-1892 m. James Muredach Ford 1836-1908, lived in Chicago, Illinois

Francis Joseph Ford 1861-1927 m. Harriet Jane "Hattie" Downey 1862-1896 (5 children; she died age 33)
m. Lavinia Fury 1859-1944

Frances Lavinia Ford 1901-1983

Percy James Ford 1863-1917 m. Matilda Agnes Mundt 1863-1940; 4 children.
William Henry "Will" Ford 1865-1938 m. Helen Clair Clough 1869-1956
Alice Mears Ford 1867-1953 m. Charles Austin Adams 1858-1930
Shelley Benjamin Ford 1870-1939 m. Katherine Marie Moynan 1878-1930; 1 child
m. Josephine Ellna Naughton
Joseph Albert "Joe" Ford 1872-1950 m. Julie Moore Cole 1878-1969; 3 children; grandparents of Elizabeth Ford Paullin
Newton Bysshe "Newt" Ford 1875-1950 m. Martha Mary Slater b. 1880; 1 child
m. Minnie L. Leonard b. 1881
Amy Mabel Ford 1879-1958 William Larsh "Will" Kuser
m. George Lone Everall 1873-1909; 1 child
Edward Peter "Trawl" Ford 1882-1941 m. Pearl Green b. 1884
Florence Stella Ford 1885-1959

Ann "Nancy" Foy 1840-1917 m. Peter Meehan

William Foy b. 1842 m. Bridget, 1911 moved from Illinois to Ardnaree South Ballina

Margaret L. "Maggie" Foy 1842-1921 m. James Cain 1836-1934, lived in Cook County, Illinois

Patrick J. Foy 1844-1910 m. 1870 Bridget King

Michael Foy b. 1848, lived in Cook County, Illinois

Thomas F. Foy 1849-1923, first to be born in Lake County, Illinois, m. Alice 1850-1919
I remembered my father talking about Kanes and Minogues and thought they might be related. In 2004, after a cold call to a survivor listed in a Minogue obituary I found online, I discovered that they were my third cousins. The timing was good. In July 2004, my wife Marilyn and I attended the first reunion of the Kane and Minogue families in Arlington Heights, Illinois. One of my Minogue cousins was Dan Minogue. His wife Pat Rinker Minogue told me she had Foy ancestors from Foxford, County Mayo, and always wondered whether they were related to Dan's and my Foy ancestors. I promised to keep a look out. Foxford is 27 miles from Dan's and my ancestors who lived on the Foy Farm in Derreennascooba.
Family Tree. The family tree of the Foy family from Foxford is shown below. Some of the information in this tree came from the Foy Message Board at Rootsweb.
John Foy b. 1861 and Mary b. 1867 were married in 1881 and had ten children (John, Mary, and family are listed in 1911 Census for Foxford):

---

Mary Foy b. 1884

John Foy b. 1886

Patrick J. Foy 1887-1969, emigrated to Chicago in 1914, worked as a car repairer for the North Western Railway

Bridget "Delia" Foy 1888-1935 m. 1915 James Gaughan 1887-1970 (both from Foxford)

James Gaughan
John Gaughan
Mary Ellen Gaughan 1917-1984 m. Clyde Rinker d. 1978 (Clyde was a carpenter)

Sharon Rinker m. Edward Kaasbell
Patricia Rinker m. Daniel Minogue (Dan is third cousin of Peter Biggins; their great great grandfather was an unrelated Dominick Foy)

Edward Gaughan

Thomas Foy


Joseph Foy

Margaret Foy b. 1897 m. Martin Maloney

Martha Maloney m. John Alkens (parents of Sherry Custable. Martha came to live with Gaughans in 1956)

Martin Foy b. 1899 m. Maggie Hoban (lived on Main St. in Foxford)

Martin Foy
Sean Foy
Padraic Foy (father of Jo Bates. Family lives in Quarry Hill, Leeds)
Michael Foy
Mary Foy

Andrew Foy b. 1901
My great great great grandfather, Thomas Foy, was born in County Mayo, north Connacht, Ireland, sometime around the year 1795 or 1800. He married Mary Tracy (based on daughter Margaret's death certificate) sometime before the year 1820 and lived on the Foy/Hunt farm in the townland of Derreennascooba in County Mayo, which is situated on a hillside in the Partry Mountains, just south of Killavally (also called Killawala) and eight miles south of Castlebar, the county seat of Mayo.
They say that the name Foy comes from the ancient Irish word for raven and has been anglicized as Hunt. In the 1833 Tithe Applotment for the Parish of Ballintubber, Page 20, the name of the lessor of the Foy farm is given as Thos. Hunt. The farm at that time consisted of 589 acres owned by George H. Moore (280 acres untitheable).